A space of more than 30 squared meters subject to umidity percentuage control (to keep the merceologic characteristics of the plasters) with a big central marble table where the first registration of the incoming jobs is made.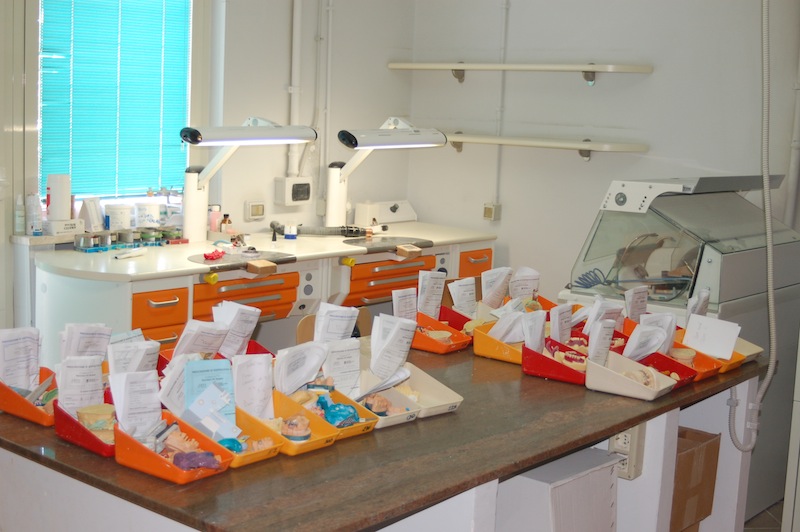 In this section we have a vacuum mixer, 2 trimmers, a dry and a water one, a vibrator, a high precision scales (Kern), 3 SAM articulators to mount the models with sideburns (for the calibration we use the Adesso Split system, that lets us calibrate all the articulators in the same way, to make them interchangeable, and it also makes possible for us to provide the articulator calibration to our customers so they can check the job without shipping the articulator everytime), 3 complete working locations, a box with aspiration for the finishing, a casting machine, and an induction melting machine, 2 pre-warm ovens, an ultrasonic cleaner, 2 aspiring hoods, 2 sanders with 3 modules, a motor cleanser with aspirator.
2 full time employees are working in this section.
Every kind of plaster is mixed in vacuum mixers according to the producer's indications and calibrated with the right proportions water/plaster.
According to the plaster's or lavoration's type, we trim the model, with the dry trimmer if it's a precision model, or with the water one for all the others.
Model and antagonist are mounted on articulator, after this, the boxes with the models mounted on articulator with labsheets and the related documentations are sent to the next section.